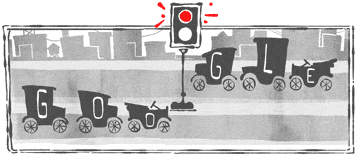 Today (5th August 2015),
Google
is celebrating the 101st anniversary of the electric traffic lights.
The first electric traffic light was installed in Cleveland (Ohio, USA) on Aug. 5, 1914, and replaced the policeman that used to direct traffic.
However, traffic lights were not invented in the USA but in the U.K. Gas-lit traffic signals were installed in London in the XIX century, but were quite dangerous as they spontaneously explode.